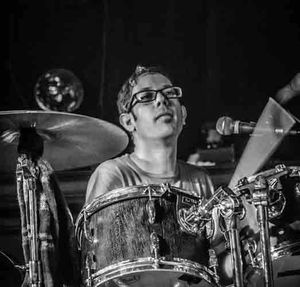 Photo by John Miklasz / Dharmic Light Photography
Born: January 30th 
Instruments: Drums 
Distinguishing marks: Manly chest hair 
Career Goals: Keep getting to play drums. 
Interesting fact: Only band member with children
 
Family and music are Jeff's top priorities in life. Jeff began learning to play drums at age 10, making a kit of coffee cans, pie tins and pencils, imitating his idols Dave Grohl, John Bonham, Phil Collins and Kieth Moon. His aunt gave him a Ludwig snare drum when he was 11. He received his first drum set from his very supportive parents at age 12, a Pearl drum set with Zildjian cymbals. Tripoli never took formal drum lessons, though as a teen he had advice from other Syracuse drummers. Jeff has played with numerous groups through out his career. Most groups spanning through musical genres like Americana, Jamband, Rock, Funk, R&B and Zydeco.
Tripoli attended the East Syracuse-Minoa school district where he met his first band, Elipsis, in 1997. After graduation, Tripoli began performing with original bands in the Syracuse area until ultimatly moving to Ithaca, NY to join a zydeco jamband in 2008. After moving back to Syracuse in 2012, Tripoli began touring and recording with local rock bands before his ultimate recruitment to tour and record with The Town Pants in 2016. 
In 2018, Tripoli recorded "Something To Say" with The Town Pants and was able to take part in the creation of the album from start to finish. The rest is yet to be written as The Town Pants propel into the future.