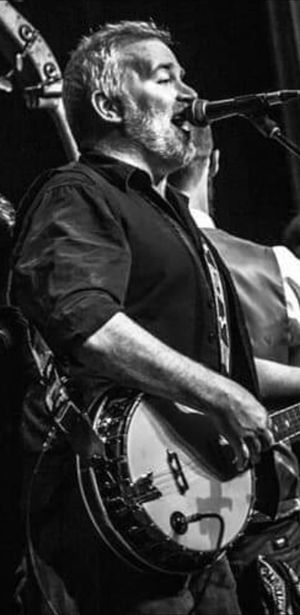 Photo by  Milton Young
Born: January 22nd
Instruments: Banjo, Guitar, Vocals, Mandolin, Tin Whistle.
Distinguishing marks: Fantastic behind.
Career Goals: Astronaut or fireman, or else a cowboy.
Interesting fact: Is currently eligible for a full pardon.
Email: Dave@thetownpants.com

The beginning seeds of the Town Pants were sown for Dave as a child in Gatineau, Quebec. Late at night at the Keogh family kitchen parties, and allowed to stay up way past bedtime; Dave with his little brother sat watching and listening to the music that their large family of Irish and Acadian origins played.And so it was that Dave's first experience of music was then was forever defined that music and a good time should go hand in hand.

Through his adolescence in Ottawa, Dave spent much of his life playing in obscure bands, with a variety of styles. He has also worked in a number of different jobs to support the creative leaner times including clown, landscaper, commercial fisherman, computer consultant, beer slinger, burger catcher and even as a bass player. He graduated from college, then university, then college again shirking the life of a full-time student, to the equally respected full-time musician.

Fans and collectors of Dave's music can still seek out his earlier recordings, especially the infamous "Sad Tomatoes" CD recorded by a hard rock band called Headview in 1996 in which Dave plays lead and rhythm guitar.

As a break from the heavy rock music Dave had been performing, Dave with accordionist Jeff O'Halloran began playing old Irish drinking and rebel songs for laughs and drink to friends at parties, playing some of those very same songs he had heard as a youngster.
The parties took off to the point soon people were paying to come to them--and the band that started as a fun aside formed into Van Demons band, and eventually relocated to Vancouver in 1996. The Van Daemons eventually were put on hiatus, and The Town Pants began in an effort to bring a more original, and touring band to life. Dave moved from guitar to banjo to broaden the group's sound, but he can still always be found noodling on a guitar, whistle, mandolin or cold beer.