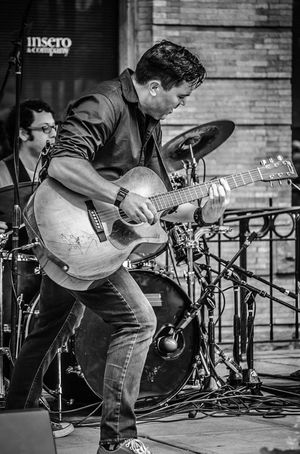 Photo by John Miklasz / Dharmic Light Photography

Born: February 14th
Instruments: Guitar, Vocals, Spoons.
Distinguishing marks: Sparkling teeth.
Career Goals: End world thirst.
Interesting fact: Once stuck an axe in his head (by accident.)
Email: Duane@thetownpants.com

Duane came into the world on February 14, Valentines Day not so long ago in a Galaxy far far away: The nations capital of Ottawa in fact. Growing up in Ottawa, and coming from a large family of Irish and Acadian ancestry--music was an integral part of the Keogh and Ward (Acadian side) households. And it's where both Duane and his brother Dave, as pajama-clad youngsters first heard traditional music played late into the nights at kitchen parties at home by cousins, grandads, uncles, aunts, but especially their father. Lorne Keogh also taught Duane how to do superb Elvis impressions before he could count.

The family spent a few weeks every summer (usually around lobster season) in Miscou Island, New Brunswick and were constantly exposed to as much great homegrown maritime music, as they were lots of "fruit de la mer" [seafood]. Through the stern Ottawa winters Duane played music--especially as a vocalist--in a variety of different, oddly titled rock bands including "The Silence", "Wuthering Heights" and "Now and Then"--which came and went.

After moving west, he performed with former Town Pants/Van Daemons band member Johnny Leroux in a surreptitiously titled group, "Johnny Can't Rhyme" before forming Van Demons Band with his brother Dave and Jeff O'Halloran. The "Van Daemon's" as they became known gained a quick and loyal following, performing a repertoire mostly of some of the very songs that he had heard at those kitchen parties long ago. And the roots of the Town Pants were sown. Duane was the first of the Keogh's to move to Vancouver to pursue a career in film acting.

So, don't be surprised if flicking through the channels one night you find yourself saying. "Hey, isn't that...?" When not performing with The Town Pants, Duane turns up frequently as an actor on a number of television shows. has also appeared in a number of theatre productions.